How do I make a loan repayment?
We have made repaying your loan at Carbon as easy as possible. On your due date, your payment will conveniently be deducted from your Carbon Account. It's important to note that if we debit the repayment from the debit card linked to your account, you will incur a 1% fee on your repayment.
How do I fund my account?
1. Make a Direct Transfer to your Carbon account - please send money using the following details
Account Name: Your name

CarbonAccount Number: Your Carbon account number which you can find on the home page, at the top left, just beneath the customer's account balance.
2. Once your carbon account is funded, launch your app, in the menu section, select 'your loans', then click the 'make a repayment'. Select your Carbon account as the means of repayment and your account is immediately updated, once payment is successful.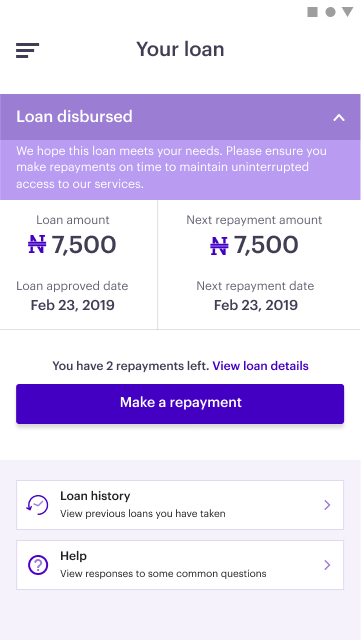 If you are having technical difficulties making a payment, please contact customer support by pressing on the (?) in the Home page of the app.